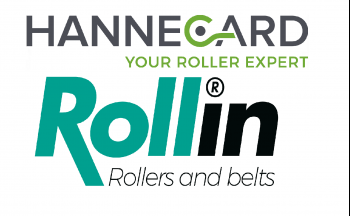 HANNECARD ROLLIN ROLLERS & BELTS
Hannecard-Rollin Rollers & belts is the European leading supplier of elastomeric-covered rolls and sleeves used in the tissue converting process.
A tailor made product is available for each application:


Embossing rolls:

XL Plast, Résistoplast and Mutliplast. Exceptional life-time and accurate embossing pattern reproduction are the terms which best define this qualities used for rubber-covered embossing rolls. Résistoplast and XL Plast rollers answers to the main converters request i.e. confer volume to the end product keeping strength and resistance of the tissue. Mutliplast is our answer for polyvalent lines producing kitchen rolls as well as toilet paper.
Glue applicator rolls:

Size Master and Plasticote.These two rubbers ensure perfectly regular glue deposit and anti-adhesion against tissue dust. Available as well as tradition coverings as on sleeves.
Marrying rolls: Press Plast and Press Plast Gold. Years of tranquillity thanks to this abrasion resistant and easy-to-maintain rubber providin,g an efficient and homogenous association between the different tissue plies. T

he newly introduced Rollin Pressplast Gold rubber covering enables a perfect bonding of multi-plies products, avoids rear ply to be re-embossed (backside effect), saving product thickness, while requiring less cleaning operations

.

Because you're specific needs require specializes analysis one of our Engenieer with a perfect knowledge of tissue converting will visit your production site and analyze your needs.
For further information visit their website here.